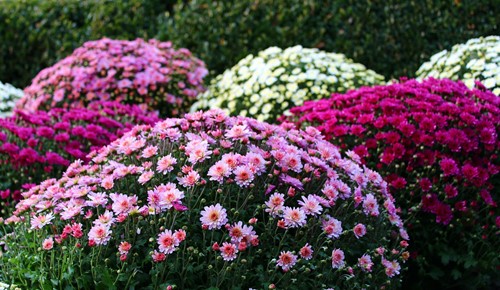 Improving your front yard doesn't have to cost a fortune. In fact, there are many inexpensive changes you can make that will completely transform the look and feel of the outdoor space. If you're willing to do the work yourself you can DIY most projects to save even more money on labor costs. Here are some of the top ideas for upgrading your front yard on a budget:
Paths & Walkways
One of the simplest changes you can make to your front yard is adding or enhancing a walkway or garden path. An easy and inexpensive DIY project involves creating a pathway with gravel or larger stone pavers. If you already have a path, such as a basic concrete walkway from the sidewalk, you can dress it up by adding edging materials. Popular choices for pathway edging include brick, stone and wooden planks. Creating crisp, clean edges to gravel pathways is a simple way to get that professional landscaping look for a fraction of the cost. Adding color and texture to a plain concrete walkway with stone or brick edges will make the pathway more inviting and eye-catching. The best part is that these projects are easy to DIY and will make an enormous difference in the look and feel of your front yard.
Mulch
Mulching serves more purposes than just helping your plants thrive. Mulch can also upgrade your plant and flowerbeds to look just like professional landscaping. Cost depends on the type of mulch you use—after all, mulch technically is any material spread over the surface of the soil. Bark and wood chip mulch is the most commonly used variety and will make your plants and flowers stand out against a clean backdrop. Mulching will also help prevent weeds which is another huge benefit to the aesthetic and health of your front yard. It may not seem like much, but spreading mulch around your flowers and plants in your front yard can create contrast and a professional look.
Easy Perennials
There are plenty of options for low-maintenance and low-cost flowers to enhance the look of your front yard. Perennials are flowers that you only have to plant once and don't require a lot of ongoing attention. Time is money and perennials will definitely help you save time otherwise spent working in the garden. Some great examples of easy perennials for your front yard would be chrysanthemums, coneflower and peonies. These will add a splash of color to the landscape and flourish throughout their growing season in a variety of climate zones.
If you are looking for green or non-flowering perennials, go for hosta and sedum. Both are very hardy plants that will add lush green color and texture to your yard. While hosta prefers the shade, sedum is a type of succulent and prefers the sun. Hostas come in a wide variety of foliage shades and patterns and will thrive with minimal upkeep, saving you time and money on new plants every year.
These are just a few of the ways to enhance the look and feel of your front yard. All are inexpensive and DIY-friendly, saving you time and money in the long run while still giving you the look of an expensive professionally designed landscape.